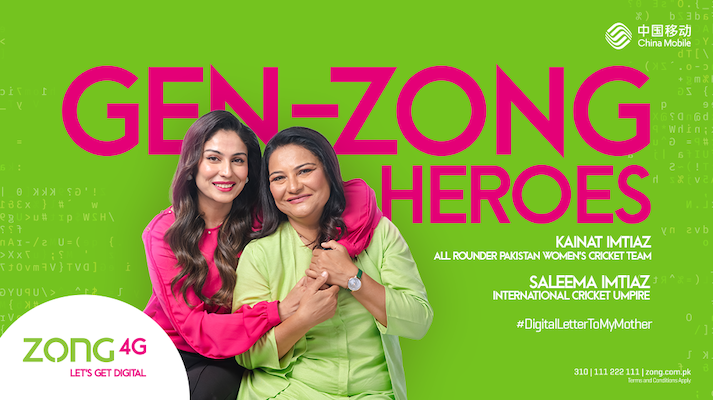 Mother's Day is a time of profound gratitude and appreciation for the exceptional women who have shaped our lives with their unwavering love and support.
In a heartfelt tribute to these unsung heroes, Zong 4G, Pakistan's leading digital network, embarked on a mission to honour the unbreakable bond between a mother and her daughter. Their story unfolded like a tapestry woven with threads of love, resilience, and the transformative power of digitalisation.
Zong 4G's Mother's Day campaign showcased the remarkable journey of Kainat Imtiaz and Saleema Imtiaz, a mother-daughter duo who have achieved international acclaim in the cricketing world. Their story was a testament to the boundless potential within individuals and the role of Zong 4G's empowering services in their success.
Against all odds, Kainat and Saleema shattered barriers, defying societal norms and expectations. Their story served as an inspiration for what can be accomplished through dedication and perseverance.
The campaign, titled 'Digital Letter to my Mom,' narrated Kainat's childhood experiences, witnessing her mother successfully balance her career as an umpire and family life. Her mother became a role model, leading Kainat to pursue her own career as a cricket player.
Their shared passion for cricket propelled them to represent their country on the international stage, demonstrating that dreams can indeed come true with determination and access to opportunities.
Zong 4G's campaign not only celebrated the countless sacrifices and tireless efforts made by mothers but also highlighted the profound impact of digitalisation on their lives.
It showcased the immense potential that technology holds in bridging gaps and empowering individuals to reach new heights. The campaign immersed the viewer in this heartwarming Mother's Day narrative, and left you overwhelmed by empathy and admiration for these extraordinary women.
The TVC transported you into a world where the pursuit of dreams and the unwavering support of a mother converged, creating a symphony of inspiration and hope.
Zong 4G's Mother's Day campaign served as a heartfelt tribute to all the mothers who have played an instrumental role in shaping the lives of their children. It recognised their invaluable contributions and the sacrifices they make to support and encourage their children's dreams and ambitions.
Mothers are pillars of strength, offering love, guidance, and inspiration every step of the way. Moreover, the campaign brilliantly combined the power of storytelling, emotional connection, and the promotion of their empowering services. The campaign was extremely well-received across the board with all audiences.
Gen-Zong was particularly appreciative of how the campaign encompassed women empowerment and highlighted the struggle faced by working moms to balance their career and societal pressures, breaking the norms and supporting their families as well.
This innovative initiative demonstrated the company's commitment to creating meaningful content that resonates with the audience while promoting their brand values and services in a unique and impactful way.
As we celebrated this special occasion, our hearts brimmed with empathy and a deep sense of connection to the countless individuals whose lives have been transformed by the power of a mother's love and the wonders of digitalisation.
Zong 4G's tribute captured the essence of this extraordinary bond and reminded us that behind every success, there stands an incredible woman who deserves to be honoured, cherished, and celebrated.