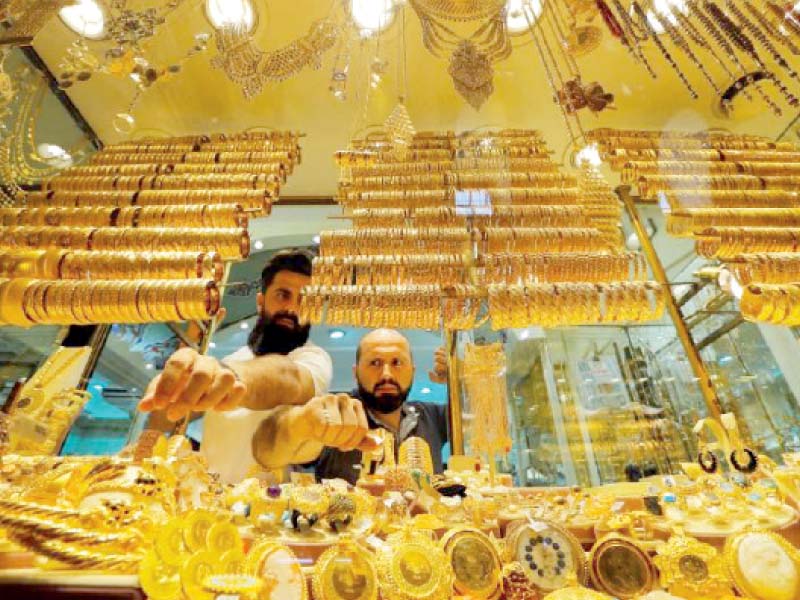 KARACHI:

Gold hit a new all-time high at Rs219,500 per tola (11.66 grams) on Saturday owing to speculation that demand for the safe-haven asset had remained high. All Pakistan Saraf Gems and Jewellers Association (APSGJA) reported that the bullion price went up by Rs800 per tola. Talking to The Express Tribune, a member of the association, Abdullah Abdul Razzak Chand, said that the gold price continued to increase in the wake of significantly high demand from investors in Pakistan.
He, however, said that there was no data available to quantify the demand. "The trend for purchasing 10-tola gold bars suggests that investors are parking their savings in the safe-haven asset to avoid the impact of rupee devaluation amid economic crisis." High economic and political uncertainty forced a large number of investors to take refuge in gold, he added.
Besides, unavailability of US dollar in open market also encouraged currency investors to build positions in bullion. Chand explained that the latest increase in gold price came partially as a result of the uptrend in international markets. Bullion rose by $6 to $1,990 per ounce (31.10 grams) in the global market on Friday. On Friday evening, however, the local association reduced the price by Rs100 per tola after the precious metal retreated $17 per ounce during intra-day trading in the international market.
Rupee-dollar exchange rate is a dominating factor in determining the gold price in Pakistan. The exchange rate has continued to move around Rs284 against the US dollar throughout this week. Chand stated that gold maintained the uptrend in global markets after a couple of banks collapsed in the West and the looming challenge to the US dollar in maintaining its dominance in global trade.