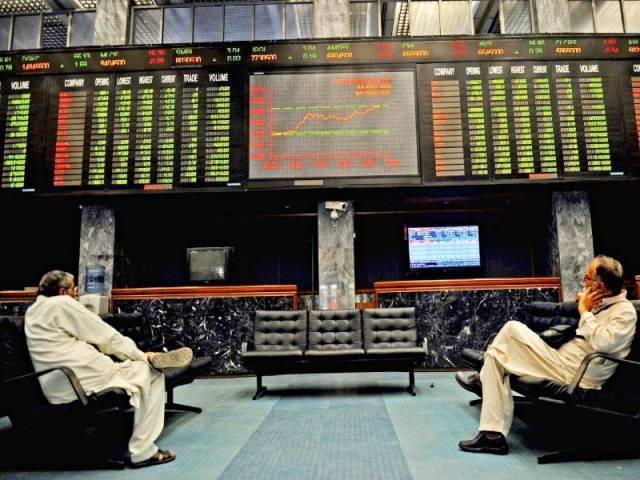 KARACHI:

Pakistan Stock Exchange (PSX) witnessed a positive momentum post-Eid in a three-day trading week over finance minister's assurance regarding International Monetary Fund's (IMF) conditions and strong financial results, which revived investor interest and pushed the market upwards. The week began on a positive note after five-day Eid holidays on Wednesday as investors remained optimistic over the revival of IMF loan programme after assurances that all prior conditions had been met.
Market sentiment got a boost on Thursday as the KSE-100 index rallied over 350 points due to clarity on political front following Chief Justice of Pakistan's statement that courts could not force political parties to hold negotiations. The last trading session of April managed to gain over 100 points on Friday as investors cheered strong corporate earnings, overlooking the deteriorating economic scenario. The KSE-100 maintained its upward trajectory to close the week in the green.
The index made a significant recovery in the three sessions as investors got encouraged by the government arranging another $3 billion from international creditors, which would enable the revival of IMF programme soon. The KSE-100 index gained 573 points, or 1.40% week-on-week, and settled at 41,581 by the end of the week. JS Global analyst Wasil Zaman, in his report, noted that market sentiment improved during the week as the finance minister assured that all prior conditions of the IMF including financial guarantees from Saudi Arabia and UAE had been met.
Consequently, the KSE-100 index gained 573 points during the week to close at 41,581, up 1.4% week-on-week. Sector-wise, refinery (up 5% week-onweek) and pharma (up 3.1%) remained top gainers whereas fertiliser was the key underperformer. SBP's reserves increased marginally by $30 million to $4.46 billion, still at critically low levels, said Zaman. ADB in its report highlighted key challenges for the country urging focus on economic management, boosting competitiveness and private sector development as the way forward. As per the Pak-China Joint Chamber of Commerce and Industry, CPEC after completing its early harvest phase has now entered its second phase which will focus on industrial cooperation, trade, agriculture and socio-economic development, the JS analyst added.
Arif Habib Limited, in its report, said that the three-day week post-Eid commenced on a positive note amid optimism over upcoming quarterly financial results in major sectors. In addition to this, investor sentiment remained robust since the finance minister informed on Monday that all IMF conditions were met and the government was arranging another $3 billion from international creditors. Moreover, the political temperature came down given all parties initiated talks to decide a date for elections. The SBP's reserves witnessed an increase of $30 million during the week. Meanwhile, Pak rupee depreciated against the US dollar by Rs0.38, or 0.13% week-on-week, closing the week at Rs283.8.
In terms of sectors, positive contribution to the stock market came from commercial banks (184 points), fertiliser (141 points), miscellaneous (38 points), chemical (36 points), and pharmaceuticals (32 points). Negative contribution came from technology and communication (31 points), glass and ceramics (7 points), and transport (4 points). In terms of individual stocks, positive contributors were United Bank (167 points), Dawood Hercules (130 points), Mari Petroleum (58 points), Meezan Bank (38 points), and Fauji Fertiliser (37 points). Negative contribution came from Habib Bank (60 points), Systems Limited (39 points), Pakistan Petroleum (30 points), Oil and Gas Development Company (25 points), and Engro Corporation (18 points).
Foreigners turned net sellers during the week under review as they sold stocks worth $14.2 million as compared to net buying of $0.3 million last week, the AHL report added.