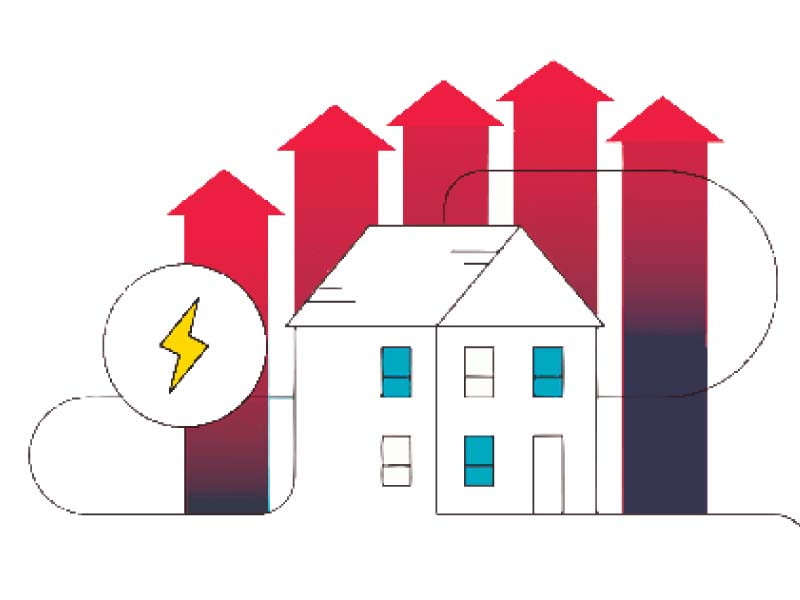 ISLAMABAD:

Consumers of power distribution companies are likely to bear an increase of Rs1.17 per unit in electricity tariff in the wake of fuel charges adjustment for March 2023.
Power-sector regulator will conduct a public hearing on May 3 of a petition filed for fuel cost adjustment by the Central Power Purchasing Agency Guarantee Limited (CPPA-G) on behalf of ex-Water and Power Development Authority (Wapda) distribution companies.
CPPA-G has provided data of actual fuel charges incurred by the distribution companies in March. During the month, most of the energy was generated from the hydel source (22.90%) and nuclear plants (22.90%), followed by re-gasified liquefied natural gas (20.42%) and coal (15.26%).
The share of wind, solar and bagasse in the energy mix came in at 2.53%, 1.27% and 1.20% respectively.
A net 8,459.24 gigawatt hours (GWh) of electricity was delivered to the distribution companies, constituting 96.77% of the total energy generated in the country.
Based on the data, CPPA-G requested for an increase of Rs1.1738 per kilowatt-hour (kWh) in electricity tariff compared to the reference fuel charges of Rs8.7122 per kWh for March 2023.
At the public hearing, stakeholders will get an opportunity to provide feedback and express views on the proposed tariff adjustment.
According to the CPPA-G's data, the cost of coal-fired power stood at Rs8.6768 per unit. The electricity produced with the help of residual fuel oil (RFO) cost Rs21.2769 per unit while the cost of gas-based electricity came in at Rs11.2621 per unit.
The cost of imported RLNG-fired electricity was calculated at Rs24.3095 per unit while nuclear energy cost just Rs1.0803 per unit.
During the month under review, Pakistan imported electricity from Iran at Rs23.3860 per unit. Wind plants produced electricity at Rs8.2173 per unit while bagasse generated power at Rs5.9822 per unit.
Earlier in April, K-Electric submitted a petition, requesting Nepra for a significant increase in electricity tariff following increase in prices of fuel used for power generation in March.
Nepra announced that the hearing on KE's petition would be held on May 3. In its petition, KE requested for fuel charges adjustment of Rs4.49 per unit for March 2023 primarily due to increase in prices of RLNG and rise in the cost of electricity supplied by CPPA-G.
The price of electricity purchased from CPPA-G in March went up by 41% as compared with December 2022. KE is drawing around 1,000 megawatts from CPPA-G and any fluctuation in its prices impacts the tariff for Karachi consumers.
KE also buys gas from Sui Southern Gas Company to generate electricity at its own plants. The price of RLNG purchased from SSGC rose by 14% in March as compared with December 2022.
Fuel prices have a significant impact on electricity tariff as they constitute a major component of the generation cost.
Nepra has introduced the fuel cost adjustment mechanism to ensure that consumers are charged a fair price of electricity that reflects the actual cost of power production.
The mechanism allows for monthly adjustment in the approved tariff based on the actual fuel cost incurred by the power generation companies. This helps in avoiding any under-recovery or over-recovery of costs by the distribution companies.
Moreover, Nepra's decision on fuel cost adjustment leaves a significant impact on the power sector as well as the entire economy.
It is also important to note that the power sector is encountering various challenges which include circular debt, transmission losses and inadequate investment.
The mounting circular debt has caused financial instability in the power sector, which, in turn, hinders investment and adversely impacts the sector's performance.
However, the government has taken various measures to address the issue, including increasing electricity tariffs and providing subsidies.
In recent years, the power sector has undergone significant reforms such as the introduction of a competitive market model and net metering. These reforms have been designed to increase efficiency, promote competition and attract investment.
However, there are still challenges that need to be addressed, including the circular debt, transmission losses, and unsatisfactory investment.
Published in The Express Tribune, April 27th, 2023.
Like Business on Facebook, follow @TribuneBiz on Twitter to stay informed and join in the conversation.