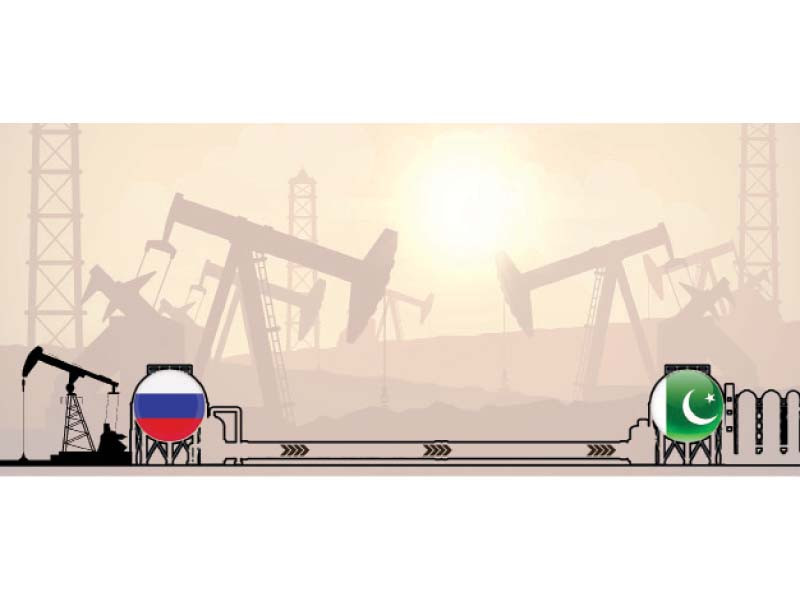 ISLAMABAD:

Pakistan has placed its first order for crude oil import from Russia as a test case which will be shipped at a discount of up to $18 per barrel.
First shipment, carrying 100,000 tons of crude, is expected to arrive in the last week of May or first week of June. Pakistan follows the crude oil prices quoted by Platts and will pay Russia a price that will be lower by $16-18 per barrel.
According to officials, Pakistan will examine the economics of producing petroleum products by refining the Russian crude.
The United States has already cautioned Pakistan that while striking an oil deal with Moscow it must keep in view the price cap announced by the Group of Seven (G7) rich nations.
On December 3, 2022, the G7 members, who comprise the highly industrialised countries, had formally put the price cap on Russian oil at $60 per barrel.
According to the grouping, the price ceiling was put in place in a bid to reduce Russia's oil revenue that it allegedly was spending in the war with Ukraine.
The other objective was to allow Moscow to continue oil supplies to world markets to avoid shortage.
Since the beginning of Russia-Ukraine war, the world has witnessed a shocking surge in oil prices, with the European Union member-countries facing the threat of petroleum shortage in the current year.
According to market players, the specifications of Russian oil are not up to the mark and freight cost is also high.
Moscow has offered the discount to Islamabad in a bid to match the price and freight of better quality Arab Light crude, which Pakistani refineries currently process.
However, the ratio of refined petroleum products produced from Russian oil is different, which can disturb the current economics of oil products produced from Arab Light crude.
Arab Light produces 45% high-speed diesel (HSD) and 25% furnace oil while Russian crude churns out 32% HSD and 50% furnace oil. It indicates Pakistan may need a higher discount on Russian crude if the current lower price fails to match the cost of Arab Light.
Pakistan's refineries have already been facing challenges as they have failed to find buyers of furnace oil after power producers switched over to liquefied natural gas (LNG) to run their plants. Of late, the refineries have started exporting furnace oil.
Owing to the lack of furnace oil demand, they have gone on partial shutdown on several occasions.
Recently, Pak Arab Refinery Limited (Parco) slashed operations to 75% of production capacity following refusal of oil marketing companies (OMCs) to lift petroleum products. It has also exported furnace oil to reduce inventory levels.
Payment in currencies other than dollars
Russia has even offered Pakistan to make payments in three currencies – the United Arab Emirates (UAE) dirham, Chinese yuan and Russian ruble.
According to sources, Pakistan will pay Russia in Chinese yuan while Letters of Credit (LCs) for oil imports will be opened by the Bank of China.
Payments in Chinese currency will help stave off sanctions imposed by the US against Russia. Moreover, Pakistan has also been encountering difficulties in opening LCs owing to the shortage of dollar in the country.
Since Pakistan is facing a dollar crunch, it is a challenge for the country to pay for Russian crude in the greenback.
Earlier, a foreign company offered a Pakistani refinery the supply of Russian crude oil, but local banks refused to bear payments in dollars.
Recently, almost all sectors have been hurt by the restrictions on opening LCs. Experts emphasise it will be a significant relief if Pakistan pays for Russian oil in Chinese currency.
Published in The Express Tribune, April 26th, 2023.
Like Business on Facebook, follow @TribuneBiz on Twitter to stay informed and join in the conversation.