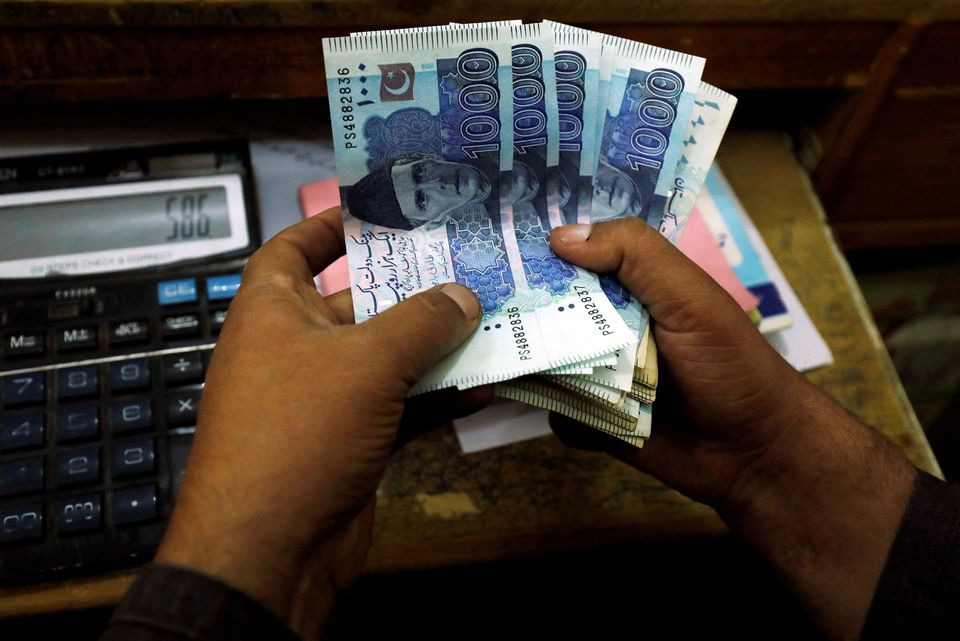 KARACHI:

Pakistan's government has announced a current account surplus, a move that would normally be cause for celebration. However, many businessmen in the country are cautioning against celebrating the surplus, stating that it may actually signal an economic contraction.
In a statement, Federation of Pakistan Chambers of Commerce & Industry (FPCCI) President Irfan Iqbal Sheikh said that the current account surplus "manifests a massive economic contraction like never before" and warned of declining imports leading to fewer industrial exports in the months ahead, as well as less capacity to make timely repayments on external loans.
Sheikh also noted that textile exports have shrunk by 12.4% to $12.48 billion and the IT and IT-enabled services (ITeS) industry's export remittances shrunk by 0.5% to $1.94 billion in the nine months of the outgoing fiscal year.
He went on to say that total exports in the first quarter to third quarter of the fiscal year stood at $21.046 billion, down from $23.35 billion in the same period of the previous year. "We have exported $2.304 billion lesser this year," Sheikh added, reflecting a 10% decline and showing the government's economic team should not be celebrating after achieving a current account surplus through contractionary, regressive, and recessionary measures.
The current account surplus is actually due to curtailed imports, according to Union of Small and Medium Enterprises (UNISAME) President Zulfikar Thaver who commented to The Express Tribune, saying it is "surely no cause for celebration." He also noted that it would be worthy of celebration if it was due to an increase in exports.
The business community in Pakistan is concerned about the contractionary measures taken by the government to achieve the current account surplus, including disallowing imports, which they say is causing plant closures and unemployment. They are urging the government to accelerate the functioning of the Exim Bank to finance imports of essential items and issue dollar prize bonds.
Businesses with dollars are willing to use them for imports, but it would be beneficial if the government offered them prize bonds and took their dollars all at once. Prize bonds became negotiable instruments and businessmen would use them for payments, making the economy more dynamic, despite the fact that black money was used to purchase them. Given the current state of the IMF program, we require dollar prize bonds as a plan-B. However, this government appears to be preoccupied with political power struggles and is not genuinely concerned about the economy.
Saylani Welfare International Trust and other charities offered to raise $2 billion from overseas Pakistanis to help revive the country's struggling economy, but the government has put the plan on hold despite the finance minister's initial approval in February. The proposed interest-free fundraising has made slow progress, and the government has not expressed support.
Arif Habib Commodities, CEO, Ahsan Mehanti stated that the current account surplus has contracted economic growth, causing unemployment and income disparities. He noted that industrial closures due to import restrictions, unavailability of foreign exchange for imports meant for value-added exports, and restrictions over Letters of Credit (LCs) are causes of concern for the business community. The International Monetary Fund (IMF) demands for raising interest rates and removal of energy subsidies also contracted growth resulting in the current account surplus.
The FPCCI chief warns that the incremental downslide registered in the export proceeds for the third quarter of the fiscal year is specifically alarming, indicating an even more abysmal export performance in the fourth quarter. He also warns that Pakistan may be heading towards uncharted territory of unprecedented economic contraction, even in comparison to its rather battered economic history.
To avert the total crumbling down of the country's social, economic, and political fabric, Sheikh proposed a four-legged approach that includes swiftly formulating a mechanism to protect exports, charting out a post-IMF deal plan for stabilising the economy, discussing broadening the tax base supplemented with the simplification of the taxation system, and discussing sector-wise budgetary proposals for FY2024.
Published in The Express Tribune, April 21st, 2023.
Like Business on Facebook, follow @TribuneBiz on Twitter to stay informed and join in the conversation.