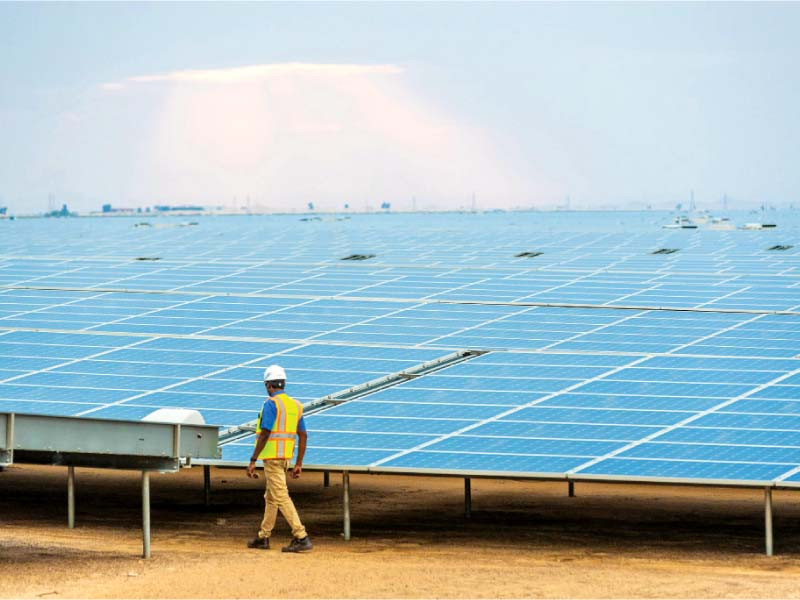 KARACHI:

Pakistan has planned to induct 14,000 megawatts of renewable energy (RE) into the national grid over next 10 years in a bid to supply low-cost electricity to consumers and fight climate change.
Speaking at a webinar titled "Accelerating Chinese Renewable Energy Investment in Pakistan", organised by Renewables First on Monday, speakers stressed the need for creating an enabling environment to attract Chinese investment in wind and solar power projects.
Alternative Energy Development Board (AEDB) CEO Shah Jahan Mirza emphasised that Pakistan held immense potential of producing renewable energy. "Pakistan has an ambitious goal of adding 14,000MW of wind and solar energy to the grid in the next 10 years," he said.
Organisers of the webinar in a statement cited Mirza as saying that Chinese investors should be encouraged to play a leading role in "developing the RE market of Pakistan…they could play a significant role."
Speaking at the event, National Electric Power Regulatory Authority (Nepra) Chairman Tauseef H Farooqi said that Chinese investors had a pivotal role to play in supporting Pakistan in its journey to privatise energy distribution and modernise transmission, while adding the cheapest solar and wind energy to the electricity mix.
"We are very upbeat about the potential of Chinese investment in renewable energy," he remarked.
Goldwind Menat Region General Manager Xiaohui Ma said while the regulatory framework and incentive structure were favourable for investment in renewable energy, the wind power industry had been facing a number of challenges in Pakistan such as the unannounced moratorium on import of renewable energy equipment.
He urged the government to refocus on both wind and solar PV and develop ambitious plans and frameworks in tandem for both technologies to maximise their benefits for Pakistan.
In order to attract more foreign investment, China Three Gorges South Asia Investment Limited Deputy CEO Noorul Arifeen Zuberi underscored the need for a streamlined project development process and removal of barriers through close collaboration and effective engagement with stakeholders.
He called for private sector investment in transmission and distribution as a solution to the bottlenecks in the way of greater renewable energy integration.
"The discussion highlighted the discourse on redirecting Chinese investment in Pakistan's energy sector from coal to clean energy," the statement added.
Pakistan's total energy production stood at 7,756 gigawatt-hours (GWh) in February 2023, where the share of renewable energy was around 5%.
The government has targeted to increase its share to 20% by 2025 and 30% by 2030. For the purpose, it has published detailed plans in the IGCEP 2022-31 and the Alternative and Renewable Energy Policy.
Other experts, however, believe Pakistan is going too slow on new renewable energy projects.
"We are far away from meeting the goals of 20% renewables in the energy mix by 2025 and 30% by 2030," an expert said, indicating that over the next 10 to 20 years, Pakistan would continue to depend heavily on (expensive) fossil fuel-based power projects."
"Since renewable energy projects don't use any fuel, an increase in the number of green projects will help the country gradually take control of the burgeoning circular debt and capacity payments as well," he said.
As of June 2021, the cumulative investment (foreign and domestic) in renewables amounted to $4.79 billion, of which $786 million was in solar, $3,752 million in wind and $258 million in bagasse.
Expected investment in the upcoming renewable energy projects (solar, wind and bagasse) over the next two years stands at $866 million.
The use of renewable energy can also help enhance exports, as global buyers question about greenhouse gas emissions and their global impact. The share of Pakistan in global warming is around 1%.
Published in The Express Tribune, April 18th, 2023.
Like Business on Facebook, follow @TribuneBiz on Twitter to stay informed and join in the conversation.