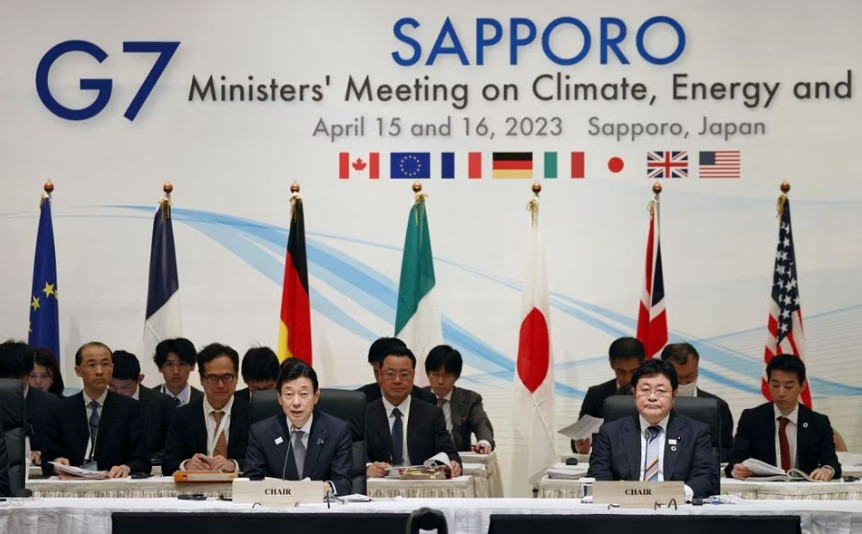 SAPPORO, JAPAN:

Members of the Group of Seven rich nations must act to help emerging countries reduce emissions, including the financing of decarbonisation in "hard-toabate" industries, Japan's economy and trade minister said on Saturday.
Ministers from the G7 are meeting for climate and energy talks in Japan's northern city of Sapporo on Saturday and Sunday, as part of Japan's G7 presidency this year. "We, the G7, need to not only reduce our own emissions, but also take concrete actions to achieve emission reductions globally," Economy and Trade Minister Yasutoshi Nishimura said in opening remarks for the environment and energy meeting, adding that this included countries in the "Global South".
Nishimura said ministers would like to discuss ways of financing the reduction of carbon in industries such as chemicals, shipping and steel. The ministers in Sapporo are due to discuss the growing importance of critical minerals for the clean energy transition and the need to prevent economic and security risks caused by vulnerable supply chains and monopolisation, among other topics, the latest draft communique seen by Reuters showed.
The issue of emissions in emerging markets has long been a focus for developed countries. However, the world's richest countries need to do more to help emerging nations reduce carbon, said Alden Meyer, a senior associate at E3G, a climate change think tank. "There's a responsibility for the G7 and other developed countries to provide finance and to mobilise private finance as well to help the decarbonisation of the developing countries," Meyer told a briefing ahead of the start of G7 meeting.
There needs to be "much stronger leadership" from G7 countries in leveraging financial and technology resources to help developing countries reduce emissions, Meyer said