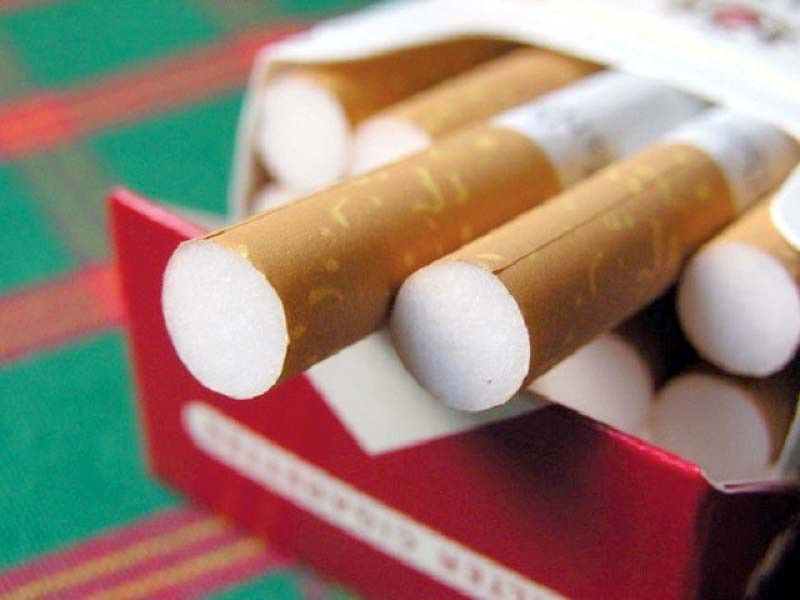 ISLAMABAD:

Sales of smuggled cigarettes have increased sharply by 30% in March in the face of a new tax policy, posing a serious threat to the government's efforts to ramp up its revenue receipts.
Smuggled cigarettes have flooded the market at cheaper rates, making them more appealing to price-conscious consumers. More than 100 brands without graphical health warnings and without complying with Pakistani laws are being sold with impunity, flouting all government regulations without fear of being caught.
The government increased excise duty on cigarettes in February, and March marked the first complete month of sales under the new tax regime. The industry witnessed a sharp increase in incidences of illicit cigarettes (produced in AJK) and smuggled cigarettes (from Afghanistan) specifically.
Representatives of Pakistan Tobacco Company (PTC) shared results of the recent increase in excise duty rates for the cigarette industry at a media briefing.
Before the announcement of mini-budget in January, the excise duty on a pack of tier-1 cigarettes was Rs130, which was increased to Rs330, showing an increase of 154%. Similarly, the rate of excise duty on a pack of tier-2 cigarettes was raised from Rs41 to Rs101, a rise of 146%.
Despite the drastic increase in both tiers, the retail price was increased by only 35% to Rs9,000 per 1,000 cigarettes. However, it created an anomaly and dead zone for the cigarette packs priced between Rs180 and Rs330.
Between July 2021 and March 2022, according to PTC, the company contributed Rs85 billion to the national exchequer, whereas the revenue collected during the same period in current fiscal year only rose by 14% to Rs97 billion, despite over 200% increase in the duty on both tiers since June 2022.
Such measures were discouraging investment and threatening the large-scale manufacturing sector as they were not sustainable and would have detrimental effects on the economy, the PTC officials said.
PTC contributes over 80% of the revenue collected from the tobacco industry, whereas only 2% is contributed by the illicit sector.
At the media talk, the company representatives highlighted that sales volume for March 2023 had completely flipped, where legitimate industry sales stood at 1.84 billion sticks as opposed to 4.84 billion sticks in January 2023 (before mini-budget).
Similarly, the sales volume of illicit cigarettes expanded exponentially from 2.85 billion sticks in January 2023 to 4.8 billion sticks in March 2023. "This demonstrates a shift of 3 billion sticks from the formal sector to the illicit sector, thus depriving the government of invaluable revenue at this trying juncture," a company representative remarked.
It was emphasised that an iron hold over the illicit sector by the law enforcement agencies was necessary to plug the widening gulf between the legitimate and illicit sectors.
Published in The Express Tribune, April 13th, 2023.
Like Business on Facebook, follow @TribuneBiz on Twitter to stay informed and join in the conversation.