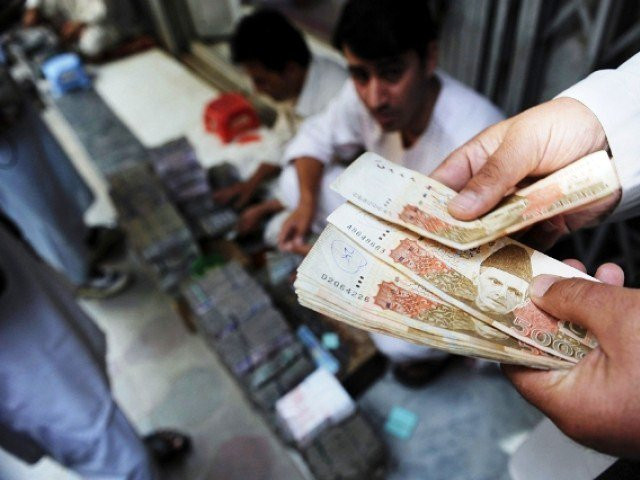 KARACHI:

Pakistani rupee made a partial recovery of 0.63%, or Rs1.81, on Wednesday and closed at Rs286.62 against the US dollar in inter-bank market.
Traders displayed anxiety over prolonged delay in revival of the International Monetary Fund's (IMF) $6.5 billion loan programme. The disquiet put the rupee's value in jeopardy as the currency hit a record low of Rs288.43 against the greenback on Tuesday, according to the central bank data.
Exchange Companies Association of Pakistan (ECAP) Secretary General Zafar Paracha said that the rupee made a partial recovery after hitting an all-time low a day ago.
There was a lull in the market since currency traders were in a holiday mood. Because of the low activity, the currency market saw no big demand for US dollars, enabling the rupee to recover some ground.
Paracha said that traders demanded low prices for the greenback following improvement in its supply compared to consumer demand.
"Overseas Pakistanis are sending higher remittances to their family members back home, like they usually do every Ramazan," he remarked. Paracha pointed out that worker remittances sent by non-resident Pakistanis had risen by a staggering 27% to a seven-month high at $2.53 billion in March 2023. The improved dollar inflows lent vital support to the rupee, which strengthened somewhat against the greenback.
The domestic currency has cumulatively lost around 20%, or Rs57, in the past six weeks compared to the Rs230/$ value in late January 2023.
Paracha added that the rupee's outlook seemed volatile and it would remain largely directionless until the resumption of IMF programme.
Currently, the government is making all-out efforts to revive the loan programme, for which it has implemented most of the tough conditions.
PIB auction
The government on Wednesday raised local debt of Rs142.6 billion by selling three-year Pakistan Investment Bonds (PIBs) to commercial banks, according to the central bank and local research houses.
It, however, rejected bids for five-year and 10-year PIBs apparently after banks demanded higher rates of return.
Commercial banks also increased the cost of lending (cut-off yield) by 34 basis points (bps) to 18.39% for three-year bonds compared to 18.05% in the previous auction held on March 15.
Moreover, the banks did not participate in the auction for 15-year to 30-year PIBs.
The government borrowed Rs142.6 billion against the auction target of Rs100 billion. Banks had offered total financing of Rs326 billion.
Published in The Express Tribune, April 13th, 2023.
Like Business on Facebook, follow @TribuneBiz on Twitter to stay informed and join in the conversation.