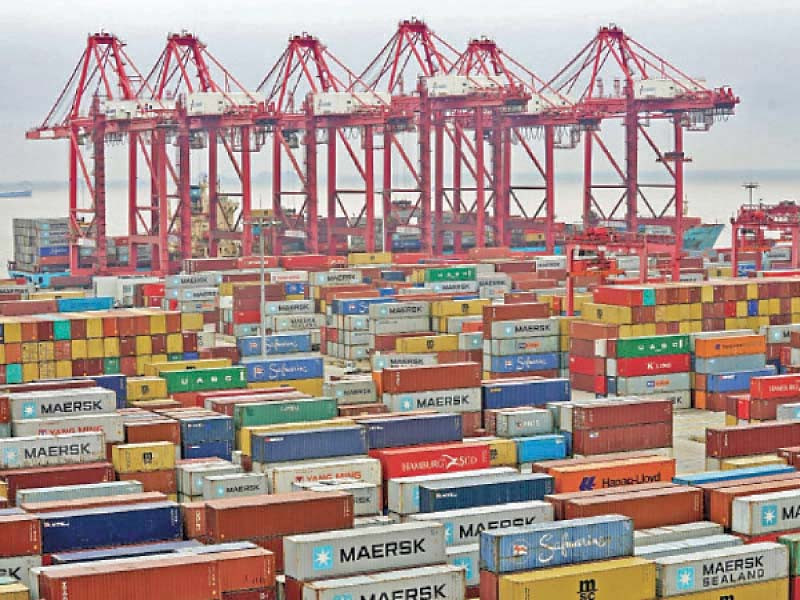 ISLAMABAD:

Pakistan has completely abolished regulatory duties on the import of used cars of up to 1,800cc. It also cut duty rates for new cars, mobile phones and other range of goods drastically that will significantly cut end consumer prices.
The decision has been taken after the government's policy to contain imports through heavy taxation hardly made an impact of $400 million but severely impacted businesses across the country.
The two Statutory Regulatory Orders (SROs), which governed the increased rates of regulatory and additional custom duties, expired on March 31st after the chairman of the Tariff Policy Board refused to further extend their validity period.
As a result, consumer items, notably new and old cars, high-tech mobile phones, home appliances, meat, fish, fruits, vegetables, footwear, furniture, musical instruments, dog and cat food and ice-cream will become comparatively cheaper.
The consumers of old used cars of up to the 1800 cc category will get major relief with 100% regulatory duties being done away with. The new cars in this category will still attract 15% regulatory duty in addition to other taxes. Regulatory duty rates on mobile phones have been halved across all the categories as a result of the expiry of the SROs.
About 500 to 700 imported cars of various engine capacities that are stuck at the ports due to non-availability of foreign currency will also benefit from the reduced taxes.
While there will be no regulatory duty on used cars of up to 1800cc, there will still be regulatory duty on new cars of over 1800 cc, albeit at very low rates, providing a major reduction in prices. The additional custom duties also stand withdrawn on these vehicles.
People do not have a choice but to import used cars due to low production and poor quality of locally assembled cars. The current economic crisis, however, has affected car consumers significantly. Some of the benefits of reduced rates will be offset due to currency devaluation.
On May 19, the government had imposed a ban on 33 categories of the goods covering 789 tariff lines, in addition to imposing quota restrictions on the import of cars, cellular phones and home appliances. Subsequently, it lifted the ban and imposed up to 100% regulatory duty and up to 35% additional custom duty.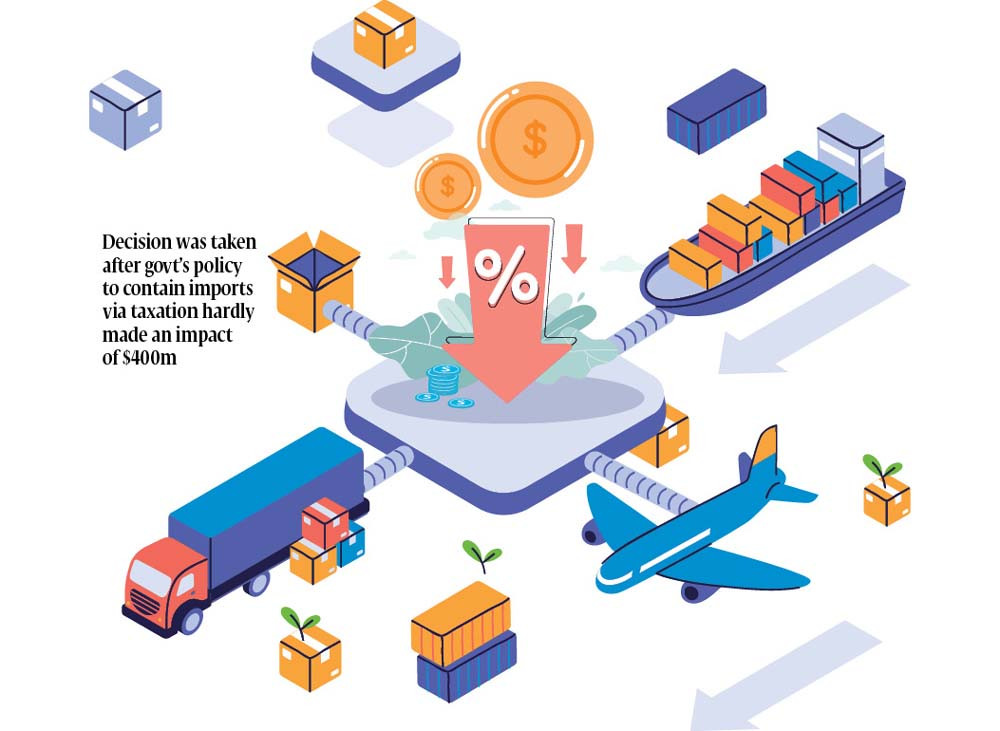 design: mohsin alam
The Federal Board of Revenue (FBR) had requested the Tariff Policy Board last month to further extend the applicability of these duties until end June. According to sources, however, the chairman of the Tariff Policy Board, Commerce Minister Syed Naveed Qamar did not agree to take the matter up with the board.
Due to expiry of the two SROs 1571 and 1572, the duties on 49 tariff lines of vehicles have been reduced in the range of 10% to 100%. Similarly, the 7% to 28% additional customs duties on cars have also removed.
The decision to increase duties and taxes to curb the import bill has not helped much. The measure had become less effective due to the SBP's decision to disallow the opening of letters of credit (LC) for the import or availability of foreign currency.
The commerce ministry officials told The Express Tribune that from September 2022 to February 2023, only $400 million worth of import compression could be achieved. The country imported $300 million worth of goods during the enhanced duties period as against $700 million in the comparative period, showing a reduction of about 57%.
But the $400 million was equal to 5% of last year's import bill, showing that these measures did not help much. But the FBR sustained a loss of Rs58 billion in revenue during this period despite higher duties due to less import of goods.
Regulatory duties on mobile phones have also been cut by half. The duty on the cheapest phone has been reduced to Rs300 per set, on a phone of up to $100 value, the duty is now Rs3,000, Rs7,500 on a phone of $200 and Rs11,000 on a phone worth $350.
Imported phones valued at less than $500 are now charged with regulatory duty of Rs15,000. The regulatory duty on an iPhone worth more than $500 is Rs22,000 plus 25% sales tax as against the earlier rate of Rs44,000 plus up to 25% sales tax of the value of the phone.
The regulatory duty on meat has been reduced to 5%. Fruits have seen a cut from 74% to 20-25%. The duties on nuts are reduced from 49% to 30%. The regulatory duty on cat and dog food is also reduced from 49% to 25%. Chocolates will attract 30% regulatory duty as against 49%. The old rate of 10% regulatory duty on sanitaryware fittings has also been revived.
Published in The Express Tribune, April 12th, 2023.
Like Business on Facebook, follow @TribuneBiz on Twitter to stay informed and join in the conversation.