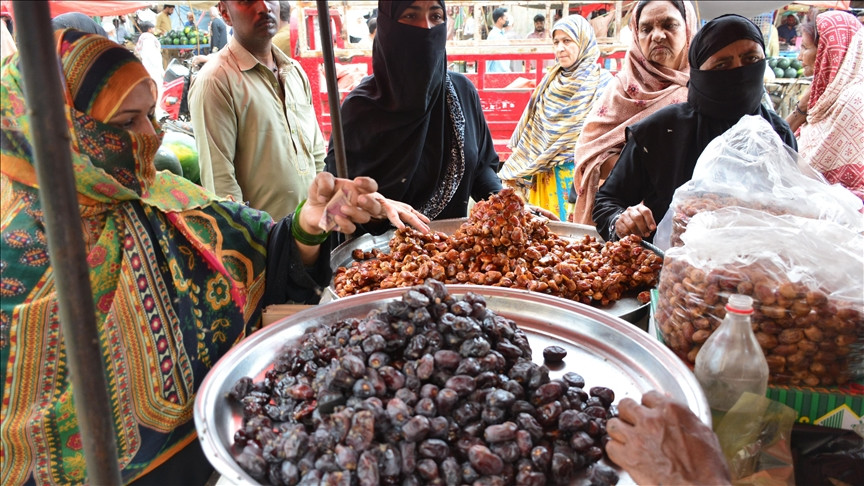 KARACHI:

As Pakistan grapples with one of the worst economic crises, millions of the countrymen struggle to celebrate the holy month of Ramazan amid skyrocketing inflation.
Decades-high inflation and a massive devaluation of the local currency have drastically reduced the already dwindling buying power of millions of Pakistanis, making it next to impossible for them to make ends meet.
The government and the local charities, nonetheless, have come up with several measures to mitigate the impact of inflation at least during Ramazan.
Standing in the middle of a queue, Gulzar Ahmad was waiting for his turn to buy groceries at a makeshift Ramazan bazaar, where he could get a significant discount compared to the market.
Located in a middle-income neighbourhood in the Central District of Karachi, this "discount bazaar" is one of the dozens of makeshift facilities where citizens can buy essential food items at 30% to 50% discount during the holy month of Ramazan.
Piles of fruits and vegetables could be spotted in the rear side of the bazaar, while stalls of staples covered the front rows. A price list showing the difference between market and discounted rates were placed at the entrance of the bazaar.
"I have been buying groceries from here since the advent of Ramazan as it is the only place where I can get stuff at significantly discounted rates," said Ahmad, a retired government employee, who relies entirely on a pension.
"I could buy at least limited items from the market during last Ramazan, but this year, it's unthinkable due to a massive price-hike and rupee devaluation," he told Anadolu.
"Thank God, there are still some places that we can afford (to buy staples), at least during Ramazan," he maintained.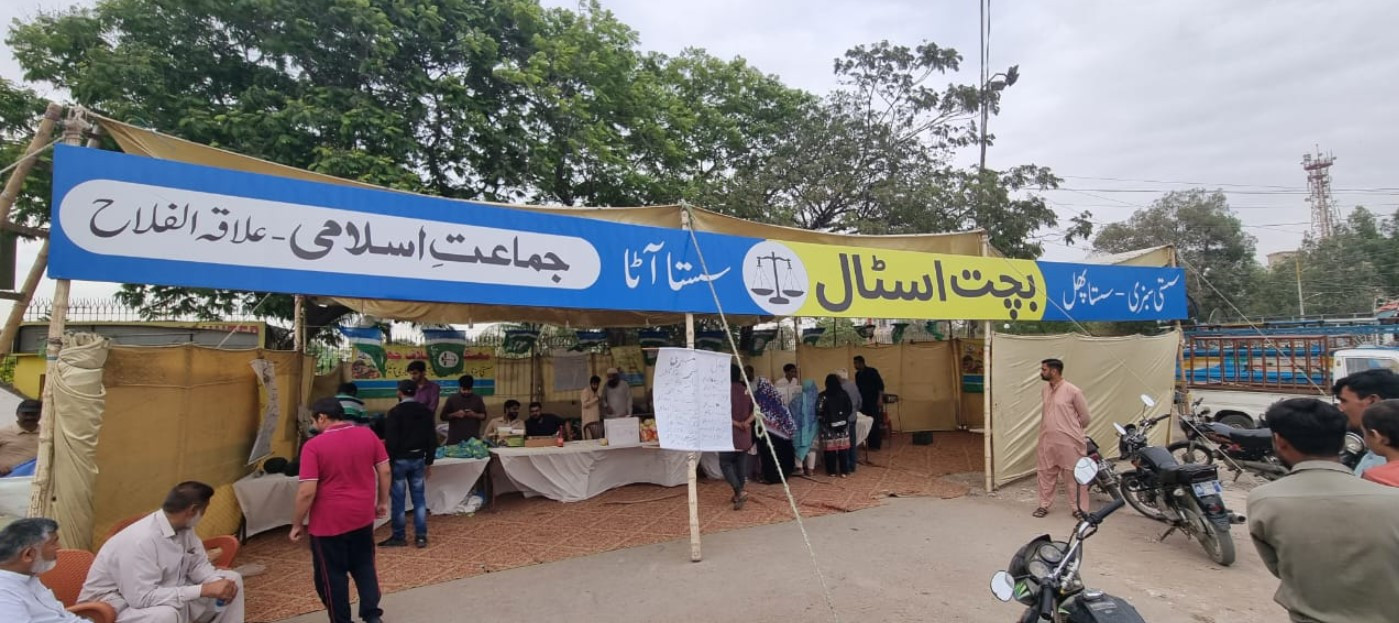 These bazaars have been set up by Al-Khidmat Foundation, one of the country's largest charities, Sailani Welfare Trust, Baitussalam Welfare Trust, and other organisations, across the city.
The charities, which otherwise would arrange street iftars (sunset meal breaking the fast) for commuters and the poor, have changed plans this year.
"Things are altogether different and difficult this year, not only for the poor but also for the citizens from middle-income bracket due to grinding inflation and unemployment," said Rashid Qureshi, a director of Al-Khidmat Foundation.
Read more: Inflation breaks all records, climbs to 44.58%
Speaking to Anadolu, Qureshi said the foundation has shifted its resources from street iftars to discount bazaars so that ordinary citizens can feel relief to an extent.
Pakistan is one of the top philanthropist nations in the world. Besides voluntary donations, the government has made it mandatory to pay Zakat, one of the few Muslim nations where it is mandatory on the government level.
The Arabic word "Zakat", which translates to "that which purifies", is one of the Five Pillars of Islam. This mandatory alms-giving is calculated at 2.5% of a person's annual excess wealth that he or she possesses at the end of a year.
Free-of-cost flour scheme
Ramazan is the ninth month of the Islamic calendar, which Muslims across the globe observe as the month of fasting.
A video going viral on social media last week showed a crowd of desperate citizens breaking into and looting a makeshift camp set up by local youths to sell staples at subsidised rates in the eastern district of Karachi.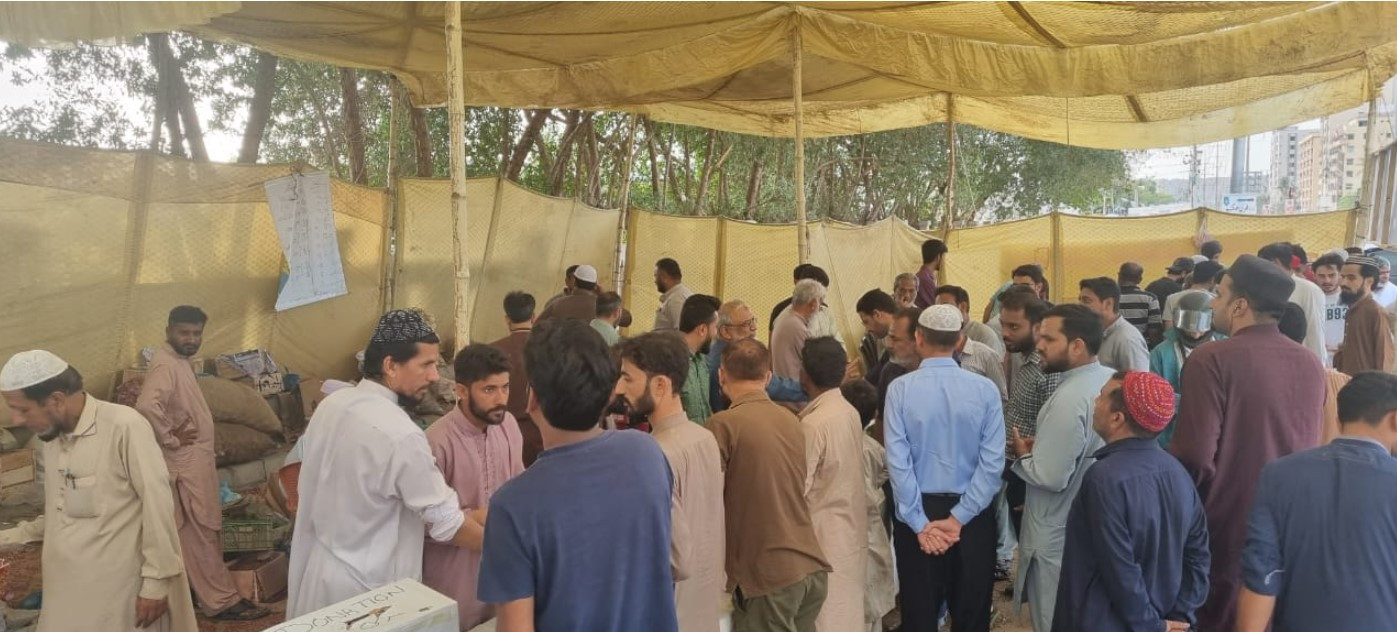 The desperation reflects the sentiments of the nation, which is reeling from an acute financial crisis, compounded by an escalating balance of payments crisis, seeking to secure external financing, with foreign reserves falling to slightly more than $4 billion.
Following the sharp depreciation in the rupee, Pakistan's consumer price inflation jumped to 35.4% in March, its highest since June 1974.
The rupee, in recent months, has hit an all-time low at 286 rupees against the dollar, becoming one of Asia's weakest currencies. It was Rs188 against a dollar until April 2022.
The federal and the four provincial governments, for their part, have launched a free-of-cost or subsidised flour scheme for the poor and low-income populations across the country.
Although hundreds of thousands have benefited from the scheme, nearly two dozens of citizens, half of them in Karachi alone, have so far lost their lives over the past few weeks in stampedes during the distribution of flour and rations in different parts of the country.
The federal government has also increased the quarterly stipend for some 0.4 million households from Rs7,000 ($25) to Rs9,000 ($31.5) under an income support programme named after the two-time former Premier Benazir Bhutto.
'Discounted' bread project
The country has seen an exorbitant surge in the prices of flour and rice, primarily because of the inundation of huge swaths of farmlands in Sindh and Balochistan provinces by super floods last year, and disruption of imports from Ukraine following its war against Russia.
Agro-based Pakistan annually produces an average of 20 to 24 million tonnes of wheat annually against its actual requirement of 30 million tonnes. Islamabad imports the remaining quantity of wheat from different countries, mainly from Ukraine.
The flour price has shot up to Rs140 ($0.5) per kilogramme from Rs72 ($0.25) per kg over the past few months, making it difficult for over 20% of the country's total 220 million population, which lives below the poverty line, to procure enough grains to fill their stomachs.
According to the World Bank, as of 2023, the country's poverty ratio is expected to reach 37.2%.
Baitussalam Trust, a Karachi-based charity, has launched a project to provide bread to the needy at a discounted rate during Ramazan.
The foundation has set up dozens of ovens in different parts of the country, primarily in Karachi to cook and provide bread to the poor at a nominal rate of Rs5 ($0.017) every day.
"The motive behind the idea is to provide bread to the families that cannot afford (buying) enough bread to eat at sehri (pre-dawn meal) and iftar," Huzaifa Rafiq, an official of Baitussalam Welfare Trust, told Anadolu.
The charity is considering continuing the project even after Ramazan, he added.
Food packages
Peshawar is known for grand iftars at main markets, parks, and mosques. However, this Ramazan, a new trend has been added to the already-established culture.
"A majority of people have been badly affected by the fresh wave of inflation, and unemployment in the country. Therefore, this year, we are delivering food packages, enough for a month, to 2,000 poor families across the city," a local businessman, Haji Shahabullah Khan, told Anadolu.
Read more: Inflation soars to 50-year high
While in rural Khyber-Pakhtunkhwa, which borders neighbouring Afghanistan, the iftar custom is a bit different as most villagers break their fast at mosques.
"This is a centuries-old custom (to break the fast at mosques). It's kind of a one-dish party," Abdullah Yousafzai, a resident of the remote Dir district, told Anadolu
Every villager brings a single dish along with dates to the mosque for iftar, he said.
While in Islamabad, locals arrange grand iftars, mainly in low-income areas.
Some others distribute cooked food outside mosques in several impoverished neighbourhoods, primarily in the capital's suburbs.
Al Khidmat Foundation said it is distributing rations among thousands of needy people in Lahore and other provincial districts, who are already registered with the foundation.
The foundation is also running over 30 orphanages across the country under its "Aghosh (embrace) project".