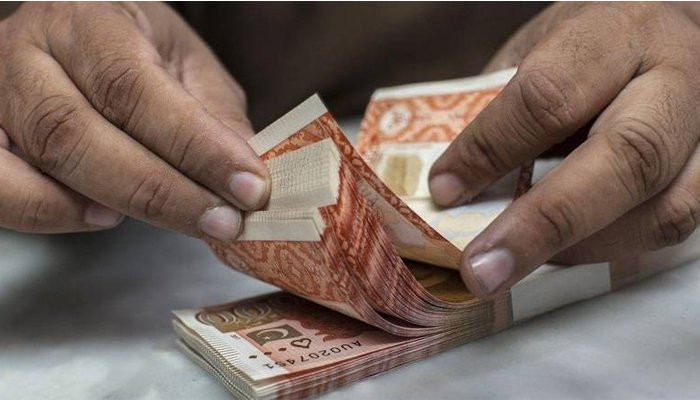 KARACHI:

Pakistani rupee on Tuesday slumped to a new all-time low close at Rs287.29 against the US dollar following persistent delay in revival of the International Monetary Fund (IMF) loan programme and the looming risk of default on foreign debt repayment.
The State Bank of Pakistan (SBP) reported that the rupee shed 0.78% of its value, or Rs2.25, and closed at Rs287.29 against the greenback in inter-bank market. It had closed at Rs285.04/$ on Monday. Earlier, the domestic currency had hit the record low at Rs285.09/$ a month ago on March 3, 2023.
In brief comments to The Express Tribune, Topline Securities CEO Mohammad Sohail said "delay in the IMF loan programme and inflows from friendly countries created some panic in the currency market."
Market talk suggests that importers were buying US dollars in panic while their supply had slowed down.
It comes despite the government's announcement that Finance Minister Ishaq Dar will visit the US from April 10-16 to attend annual meetings of the IMF and World Bank, where he will also try to persuade the IMF to resume its $6.5 billion loan programme.
Pakistan has been locked in talks with the IMF since late January as the delay in revival of the loan programme, which has been on hold since November 2022, has choked inflows of foreign financing. Consequently, the country's foreign exchange reserves have depleted to the critically low level of $4.24 billion.
Analysts are foreseeing a serious threat of default by Pakistan on foreign debt repayment in the near future. It has to repay $4.5 billion in three months (April-June) but half of the amount is expected to be rolled over.
Gold shines
With the rupee's fresh depreciation, gold price shot up to a new record high at Rs214,500 per tola (11.66 grams) on Tuesday, also aided by the rise in global commodity prices.
The bullion price rose by 2.38%, or Rs5,000, to Rs214,500 per tola, according to the All Pakistan Sarafa Gems and Jewellers Association. The previous record of Rs210,500 per tola had been reached a few months ago.
In the international market, the precious metal rose by $12 to $1,982 per ounce (31.10 grams).
Published in The Express Tribune, April 5th, 2023.
Like Business on Facebook, follow @TribuneBiz on Twitter to stay informed and join in the conversation.