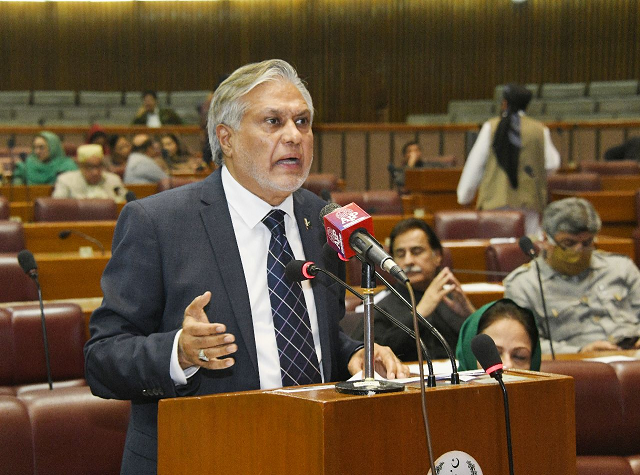 Finance Minister Ishaq Dar assured the business community on Sunday that matters with the International Monetary Fund (IMF) will be settled "soon" to revive the stalled $6.5 billion bailout package aimed at averting financial default.
Addressing an Iftar dinner hosted by the Islamabad Chamber of Commerce and Industry (ICCI) in honour of foreign diplomats, Dar said that friendly countries were expected to materialise their commitments with Pakistan which would pave the way to close the deal with the IMF and revive the economy.
His statement comes amid uncertainty surrounding the revival of the IMF deal that would unlock $1.1 billion in much-needed funds for the country.
The Express Tribunereported on Saturday that the government had placed its bets on the materialisation of Geneva pledges to partially meet the $6 billion financing gap amid the deepening trust deficit with the IMF because of its decision to give subsidy on petrol despite a looming default.
Both Pakistan and the IMF were still in the process of finalising the details about the source of financing of $6 billion when Islamabad gave a shock to the global lender by announcing a Rs50 per litre petrol subsidy.
Also read: IMF says Pakistan needs to overcome trust deficit
The decision to give the subsidy has given a message to the rest of the world that the Pakistani authorities were still not serious enough to bring its house in order. Sources said that, before formal virtual conversations ended, both the sides were discussing the contours of the $6 billion financing.
Except for the sum of $3 billion known assurances by Saudi Arabia and the United Arab Emirates, Pakistan lacked firm details about the financing of the remaining amount.
In today's address, Dar said that in 2016, Pakistan was a rising economy as it was expected to become the world's 18th-strongest economy, but was now facing serious economic challenges.
He said that Pakistan would not default and the government was making all possible efforts to steer it out of a difficult situation in order to put it on the path of sustainable economic growth.
He lauded the initiative of ICCI for hosting an Iftar dinner for diplomats.
(With input from APP)